ABC
Insolation map of the Russian Federation
Insolation - is the quantity of potentially useful solar radiation, which falls on an illuminated surface. Solar insolation varies greatly from one point of the earth's surface to another. For example, the Astrakhan steppes receive considerably more light than Petrozavodsk and St. Petersburg. To calculate insolation of an area, several factors should be taken into account: influence of seasons, for instance, in winter light level is lower and daylight hours are shorter; characteristics of illuminated terrain (some relief features may prevent illumination); local weather conditions (frequent cloudy weather, fogs and rains), etc.
read more
The usage of photovoltaics is the most cost-effective in areas with higher insolation. The average duration of sunshine in the Russian Federation is given on the picture below: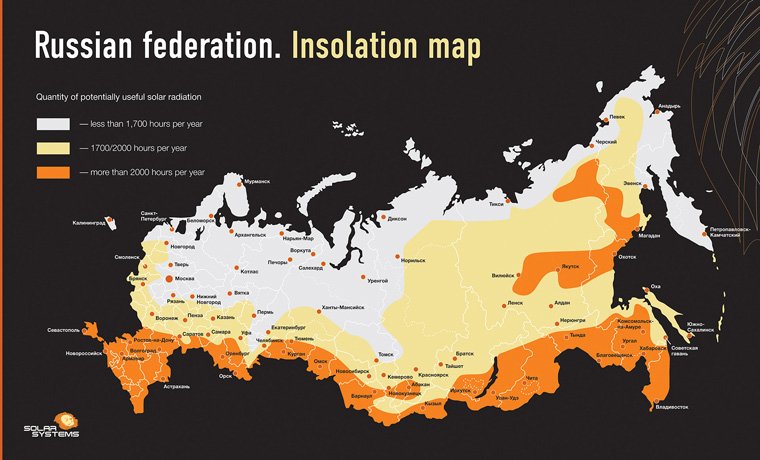 Open the full size map Download
Solar panels
Monocrystalline silicon technology has become widespread throughout the world. In recent years, manufacturers have significantly reduced the cost of modules. Market share of power plants based on this technology is 30-35%.
read more
The advantages of using monosilicon:
Monosilicon cell efficiency is higher than polysilicon and is approximately 19-20% (up to 25% in laboratory conditions)
Monocrystalline silicon has potential for further R&D in order to increase efficiency
Due to greater capacity and similar size, usage of monosilicon modules reduces the area occupied by a solar park with constant installed capacity
Monosilicon solar modules have longer service life
In other words, according to price/quality ratio the usage of monocrystalline elements is more effective
| Parameter | Value |
| --- | --- |
| Cell efficiency | not less than 19.3% |
| Module capacity | 320-325 W |
| Cell size | 156 x 156 mm, thickness of 180/200 µm |
| Module area | about 1.95 sq. m |
| Number of cells | 60 |
| Module weight | not more than 22 kg |
| Resistance to mechanical stress | up to 5400 Pa |
| Degree of air tightness | IP 65 (sealed housing for outside use) |
| Potential Induced Degradation | 10 years - no less than 90% of capacity, 25 years - no less than 80% of capacity |
| Certification | Compliance with European quality standards and availability of TUV, CE, ISO and other certificates. |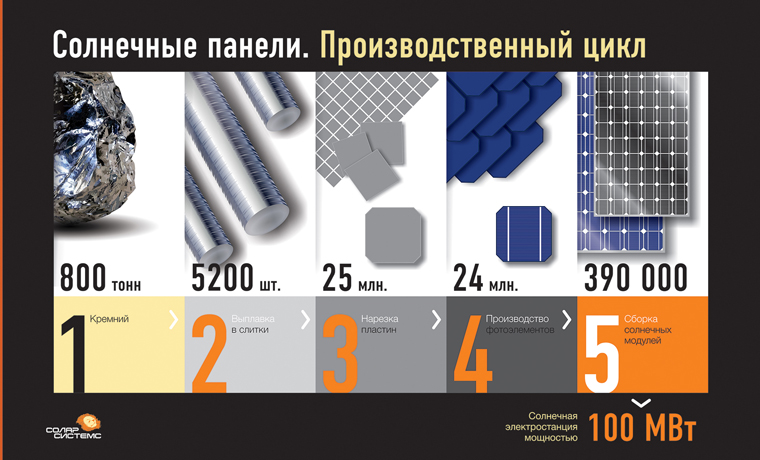 Open the full size map Download
Social responsibility
Implementation and use of renewable energy sources (RES)4 are priority direction in the energy development of the Russian Federation.
Solar energy, due to many predictions, is one of the most progressive branch of renewable power energy. Quantity of solar energy, incoming to the Earth, overtops energy of all the world pool of oil, gas, coal and other energy resources. The potential of solar energy is so oversized that at current estimates, solar energy incoming to the Earth each minute is enough to satisfy current global consumers' demands throughout the year. In such case, due to astrophysicists' analyses, the remain lifespan of the Sun composes about 5 bln years , that means almost inexhaustible resource for power generation as opposed to fossil fuels (oil, natural gas, cleaving stones, black dirt, coal), provision of which according to different estimates does not overtop 150-200 years.
Solar energy represents high-tech branch of manufacture, dynamically developing over the last years. For Russian economy the positive effect lies in the fact of creation of working places, essential tax liabilities, reduction of polluting emissions that are dangerous to population health and manufacture diversification in favor of release of high-tech product with high added value.
Conception of social responsibility is based on our consciousness of our company's mission:
We develop solar energy and make it obvious and accessible for Russian consumer.
1.Accomplishing the strategy of development of «green» energy in the country with the support of the Government, we make our own contribution to the issues' solution of formation of new branch for Russia.
2.We construct our energetic objects from the equipment, manufactured in Russia, thus stimulate the development of science-intensive production.
3.In the regions of our occurrence, we organize new working places for highly skilled specialists.
4.Upon entry into employment, we teach the staff, because fieldwork of our company demands serious basic education and skills, which young specialist just can get from the experienced professionals.
5.Our company is prompt payer of taxes and social dues, replacing federal and regional budgets.
6.We offer final complex solutions for provision of electric energy of the areas, which are uncovered by centralized electric power supply.